Artist Jonny Detiger speaks to PRISMS community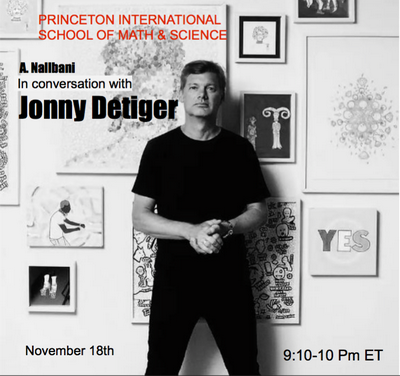 PRISMS is pleased to have New York-based artist Jonny Detiger speaking to our students and faculty on Wednesday. Mr. Detiger is a good friend of Mr. Alkan Nallbani, artist and art teacher at PRISMS. Jonny Detiger went to school in Holland and Switzerland before studying business and economics at Carnegie Mellon University in Pittsburgh and the London School of Economics. Jonny Detiger is an artist and designer whose art has been shown and collected widely in galleries across the United States and Europe. He grew up in Holland but is now based in New York with his family and works out of his Chinatown Studio.
"Our students will definitely benefit from Mr. Detiger's work by looking at his unconventional ways of applying materials," said Mr. Nallbani.
Being a STEM-focused school, PRISMS provides a variety of opportunities for students to do interdisciplinary work through individual, collaborative and research projects that combine science, technology, engineering and mathematics with art and music.