PRISMS Recognizes Earth Day 2022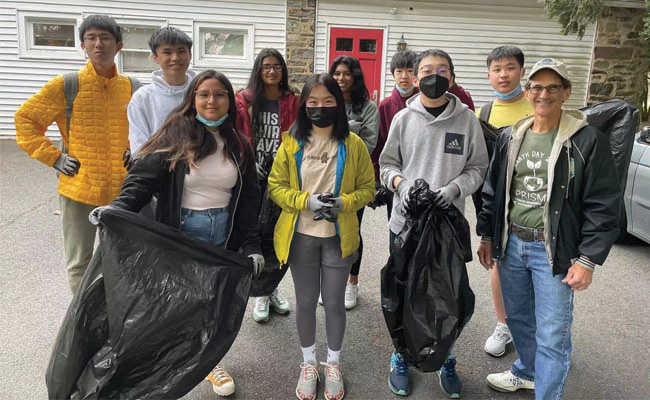 PRISMS will recognize the 52nd Annual International Earth Day, on April 22, 2022, to have conversations and share awareness about climate and environmental literacy.
Throughout the week, PRISMS community members will have the opportunity to raise their environmental consciousness by exploring QR codes located throughout the campus.
On Earth Day Eve, Thursday, April 21st, at 6:30 p.m. everyone in the community is invited to a live online Princeton American Chemical Society event (registration required at https://www.princeton-acs.org) featuring NJ Institute of Technology, Professor Maurie Cohen, who authored several books and other publications on sustainability and climate change, and pre-selected non-expert individuals to present their thoughts and findings from their use of the policy simulations model, En-ROADS (freely available at https://en-roads.climateinteractive.org/scenario.html, Climate Interactive, MIT Management).
On Earth Day, members of the PRISMS community will have the opportunity to share their environmentally-inspired artwork. The artists will use natural materials, such as fallen plant objects, rocks, and other found natural objects. At the same time, from 12:00 to 12:30 p.m., inspired by the week's events, Dr. Weintraub, PRISMS' teacher of AP Environmental Science (APES), will hold a public discussion about practicing environmental stewardship with his APES students. All are welcome to join that discussion. On Friday night, everyone is invited to the Ballroom to enjoy a fun, colorful Earth Day-themed movie night at 7:30 p.m.
Capping off the week on Saturday, April 23rd, volunteers from the PRISMS community will continue recognizing Earth Day with gratitude by tidying up our shared roadsides, neighborhoods, and public spaces, as Dr. Weintraub will lead a walk at 9:00 a.m. from campus to Princeton Public Library picking up trash and debris the whole way. Participants will enjoy lunch in Princeton followed by a nature hike on a historic Princeton trail to finish the week's celebration. The activity will conclude around 3:00 p.m.
Please email Dr. Weintraub randy.weintraub@prismsus.org for more information.