PRISMS Students Explore the Frontier of Nanomaterials Research at Drexel University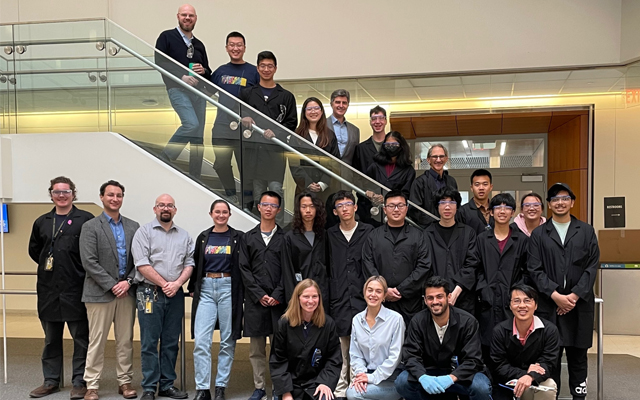 The Princeton International School of Mathematics and Science (PRISMS) is known for offering students unique experiences and opportunities to delve into the frontiers of science and technology. On our most recent venture, twelve fortunate PRISMS students had the opportunity to visit the renowned Nanomaterials Institute at Drexel University.
The trip was orchestrated with meticulous planning and coordination by Ms. Jamie Banks, the Operations Project Manager at Drexel Nanomaterials Institute, together with PRISMS faculty Dr. Chen and Dr. Weintraub. Ms. played an integral role in ensuring this trip was not only educational, but engaging and inspirational for our students.
Upon our arrival, we received a warm welcome from Prof. Yuri Gogotsi, a leading figure in nanomaterials research. Prof. Gogotsi provided us with an insightful introduction to the institute, his laboratories, and their pioneering work on a novel two-dimensional nanomaterial, known as MXenes.
Our learning journey continued with several short talks delivered by Drexel's PhD students and researchers. These talks, focusing on various aspects of MXenes research, inspired lively discussions, with our PRISMS students showing a keen interest in the topic and actively asking insightful questions. These dialogues were so engaging that our schedule was delightfully extended to accommodate the depth and breadth of the conversations!
Following a lunch, we embarked on a tour of the labs, where our students witnessed a series of eye-opening demonstrations. Adding a cultural twist to this scientific endeavor, a few of our students even utilized MXenes ink to exhibit their skills in Chinese calligraphy. The trip concluded with a guided tour of more advanced instruments, such as the TEM, XRD, etc., led by Research Assistant Professor, Dr. Christopher Shuck.
Reflecting on the day, it was clear to see that this trip was much more than a simple visit; it was an immersion in the exciting world of nanomaterials research. It was meticulously planned, well-coordinated, and served as a testament to the passion for scientific exploration that PRISMS nurtures in its students. We extend our sincere gratitude to everyone at Drexel who contributed to making this trip a resounding success and look forward to more engaging excursions in the future.
Moreover, for the first time, two PRISMS students will have the unique opportunity to work on MXenes-related hands-on projects as part of the Summer Research Internship Program at Drexel. Under the guidance of Prof Gogotsi's team, the five-week program will span from early July to early August. Interested students should submit their resume and personal statement to Drexel for application, which will be followed up with an interview by the Drexel team.
Related Links: