Graduation 2016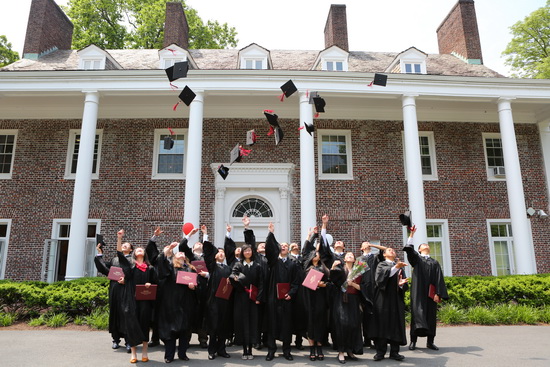 June 11, 2016 marked an important day in PRISMS history when our first graduating class walked across the stage to collect their high school diplomas. Family and friends from all over the globe came to support and celebrate the 18 pioneering members of the class of 2016. This first commencement ceremony was created with the vision and participation of PRISMS faculty and staff, local vendors, and many student volunteers, an event by-and-for the PRISMS community, a union between a traditional US graduation and a Chinese end of school celebration. The Master of Ceremonies was Executive Principal Matthew Pearce, and speakers included our Head of School and Board Chair, Madame Pengzhi Liu, Mr. Pearce, as well as Mr. Yongji Xu, The Counselor for Education of the Chinese Consulate in New York. Faculty members offered individual reflections of each graduating senior, including amusing anecdotes and personal memories.
The music featured an original piano piece by graduating senior Lingyun (Richard) Xiao, as well as several original compositions by faculty member, Dr. Andrew Bleckner. Following the ceremony, guests enjoyed a luncheon catered by local Princeton favorites, though the clear star of the food selections was the ice cream truck distributing ice cream cones and sundaes on a blistering hot day.
All graduating seniors will be attending college in the United States this coming Fall, matriculating at: Brown, Caltech, CalPoly State Univ. San Luis Obispo, Cornell, Duke, Illinois Institute of Technology, MIT, Notre Dame, Oberlin, Rensselear Polytechnic Institute, Rhode Island School of Design, UCal Berkeley, UCal San Diego, Univ. of Illinois Urbana-Champagne, Univ. of Michigan, Univ. of Sothern California, and Univ. of Washington Seattle.
We are confident that these students are well prepared for college and beyond. While we will miss them, all of us at PRISMS wish them much happiness and success in their future endeavors.