Learning how cells move - Dr. Chris Janetopoulos presents his research to PRISMS students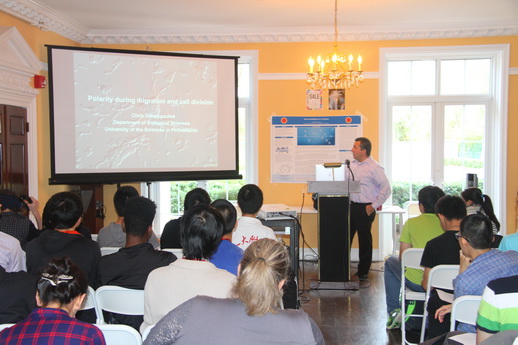 On Friday, October 21st, PRISMS students had the privilege of hearing about cutting edge research on cell motility by Dr. Chris Janetopoulos, a professor at the University of the Sciences in Philadelphia. Dr. Janetopoulos is a recognized authority on the use of microscopy to study how cells move, a topic that has relevance to many areas of biology, including cancer biology.
Dr. Janetopoulos presented his research at a school-wide meeting. Prior to his presentation, Dr. Janetopoulos participated in a roundtable session with several PRISMS research students and answered questions about working in a research lab and how to overcome difficulties in research.
This summer, two PRISMS students - May Oh and Justin Saintil, participated in a summer internship in Dr. Janetopoulos' lab.